Osbourn Senior High School
Class Of 1970
In Memory
Linda Cornwell (McLaughlin) VIEW PROFILE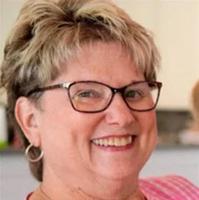 Obituary for Linda Cornwell McLaughlin
Linda Cornwell McLaughlin, age 68, passed away on Sunday, September 27, 2020 at Lake Manassas Health and Rehab Center in Gainesville, VA.

She was born May 21, 1952 in Washington, D.C. to the late Charles Robert and Helen Louise (Pat) Cornwell.

Predeceased by her parents; She was preceded in death by her loving husband Dennis William McLaughlin.

Survivors include her loving children, Michelle McLaughlin, Heather Mergler and husband Lee, Tim McLaughlin, Matt McLaughlin and wife Laney, and Sarah McLaughlin. She is also survived by her loving grandchildren Kalea Obermeyer, Cole, Carter, and Cooper Mergler, Kaitlyn Perkins, Charles McLaughlin, Linley, and Harper McLaughlin, and her siblings Patty Westmoreland and Bobby Cornwell. She is also survived by her loving fur babies Bailey McLaughlin and Jerry Mergler.

Linda, a.k.a. 'The Cabinet Lady,' spent 30+ years doing what she loved; designing kitchens and bathrooms. Her love for music started at a young age, and she turned that passion into a business when she opened up a record store in Manassas called Head over Heels with her friend Jane Albrite. She attended many concerts through the years, with Bonnie Raitt and Bruce Springsteen topping the list. At Linda's house, the door was always open and she was there to greet you with open arms. If you were there for a monogram party, a pampered chef party, or one that involved a cocktail or two, you knew you were in for a good time and would leave with a smile on your face. She was a dedicated sister in the Beta Sigma Phi sorority, volunteering her time in the community and to the sisterhood. Her love for recreational activities and the social scene kept her going. She spent many years giving her time to youth sports, the PTA, Girl Scouts, and summers at Sudley Club making sure swimmers had their heat cards. Enjoying retirement was something she made a priority- traveling, going to Washington Mystics games, and spending quality time with lifelong friends and her grandchildren made those years count the most. Linda will be sorely missed by all that knew and loved her.
https://www.piercefh.com/obituaries/Linda-Mclaughlin-3/#!/Obituary
Click here to see Linda's last Profile entry.